Introducing Virtual Writing Rooms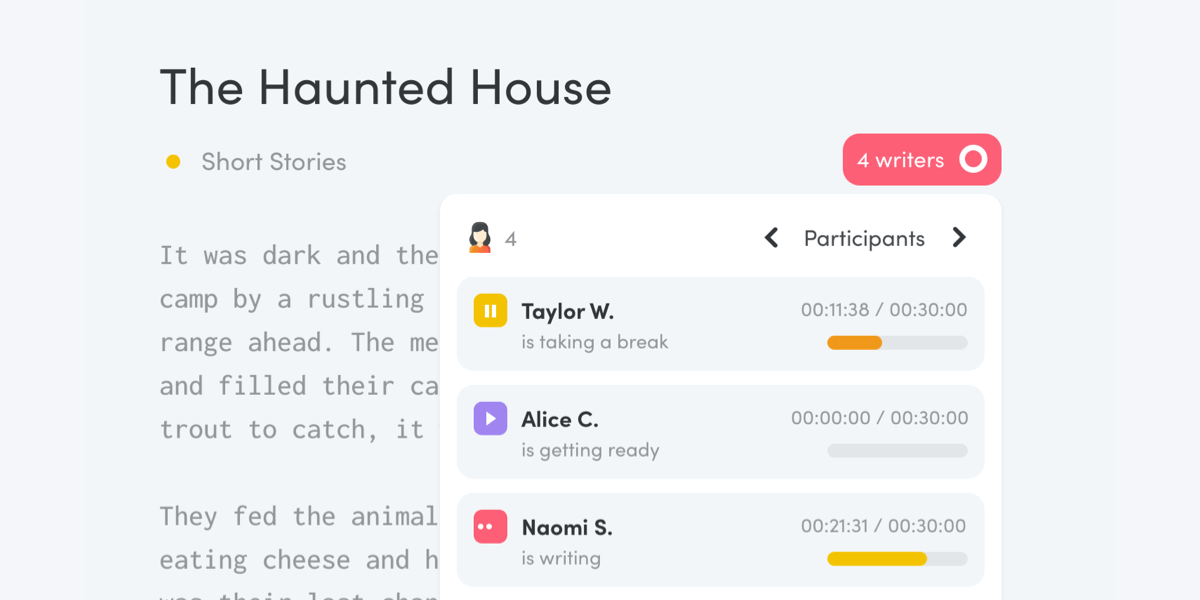 Writers spend countless hours working on their own. That's part of the deal. But even those of us who enjoy the solitude of writing find it difficult to keep going sometimes.
One of the most effective ways to ensure that you live up to your expectations is external accountability. Authors go as far as moving to the wilderness or staying in hotels far away from anybody they know to force themselves to follow through.
Other writers join a writing group to get the encouragement they need. Although this is a great way to stay motivated, it's not for everyone. Particularly when you're just starting out, sharing your drafts or even talking about your projects with others can be intimidating.
Today, we're introducing Challenges — a new way to work together with others — friends or complete strangers — right in Writing Analytics. When you join a challenge, you'll be able to see the progress of all the other participants. More importantly, they will be able to see your progress too.
Challenges work like virtual writing rooms. Set a goal and work towards it alongside other writers. At no point can anyone see your draft or even the title of your session. Your metrics are the only thing that is visible to others.
Challenges are available for all users today both on desktop and mobile. Stay accountable and get your words done — wherever you are.
How does it work?
To join a challenge, go to the Challenges section in Writing Analytics and select one from the list.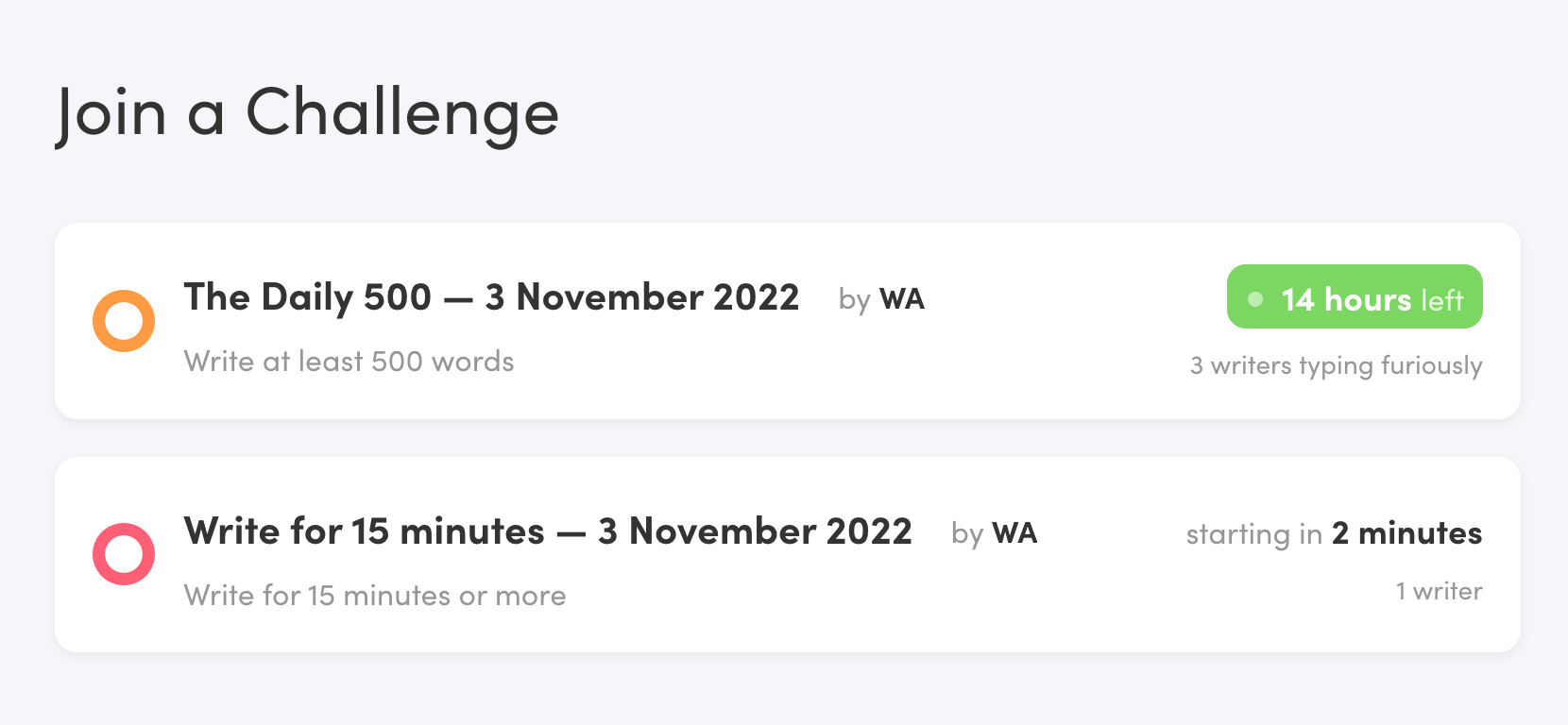 On the challenge page, click the Join Challenge button in the top-right corner.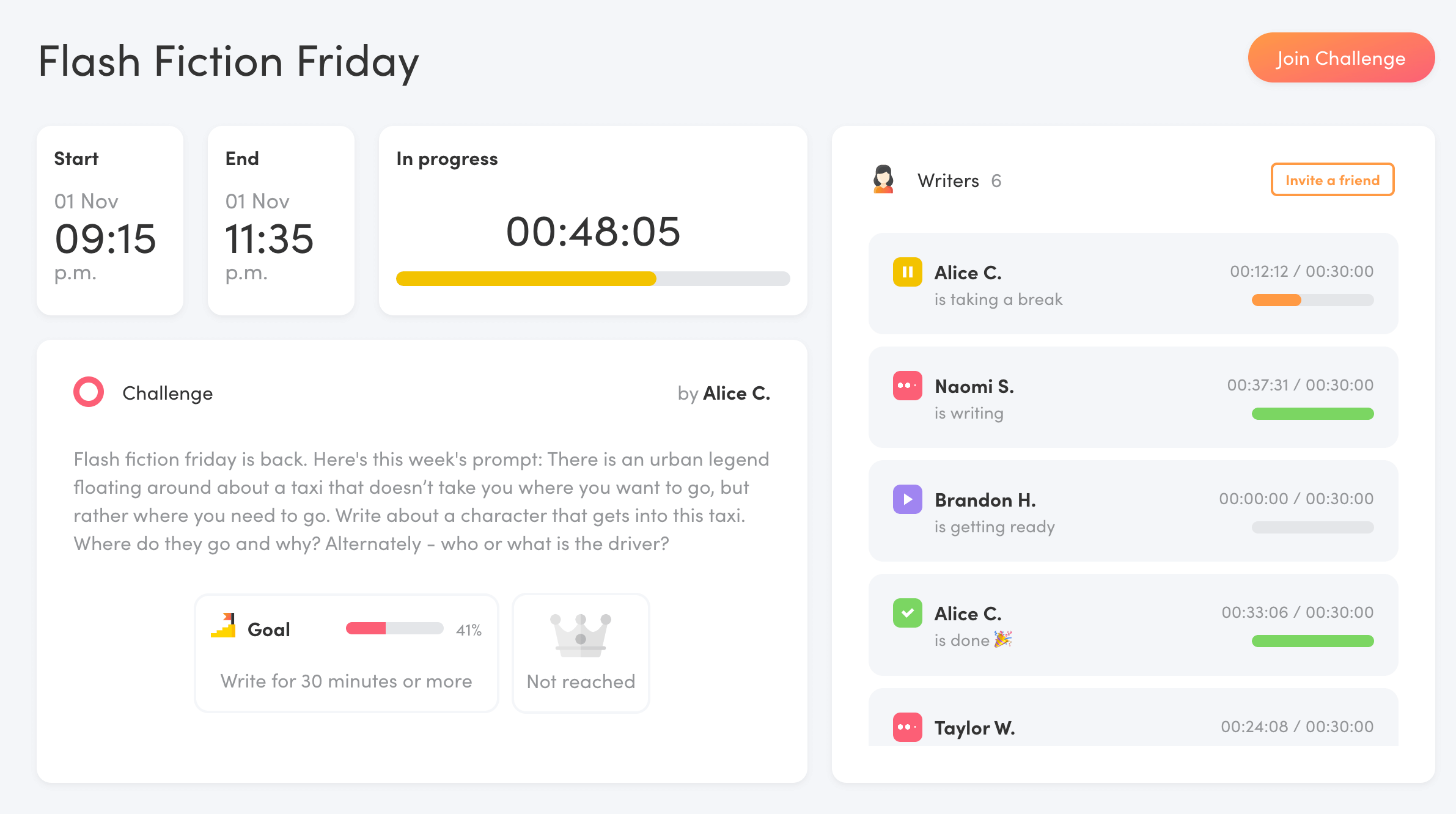 You'll be prompted to create a new session. When joining an ongoing challenge, that's it — you can start writing right away. In case the challenge hasn't started yet, you'll be taken to the waiting room in the meantime.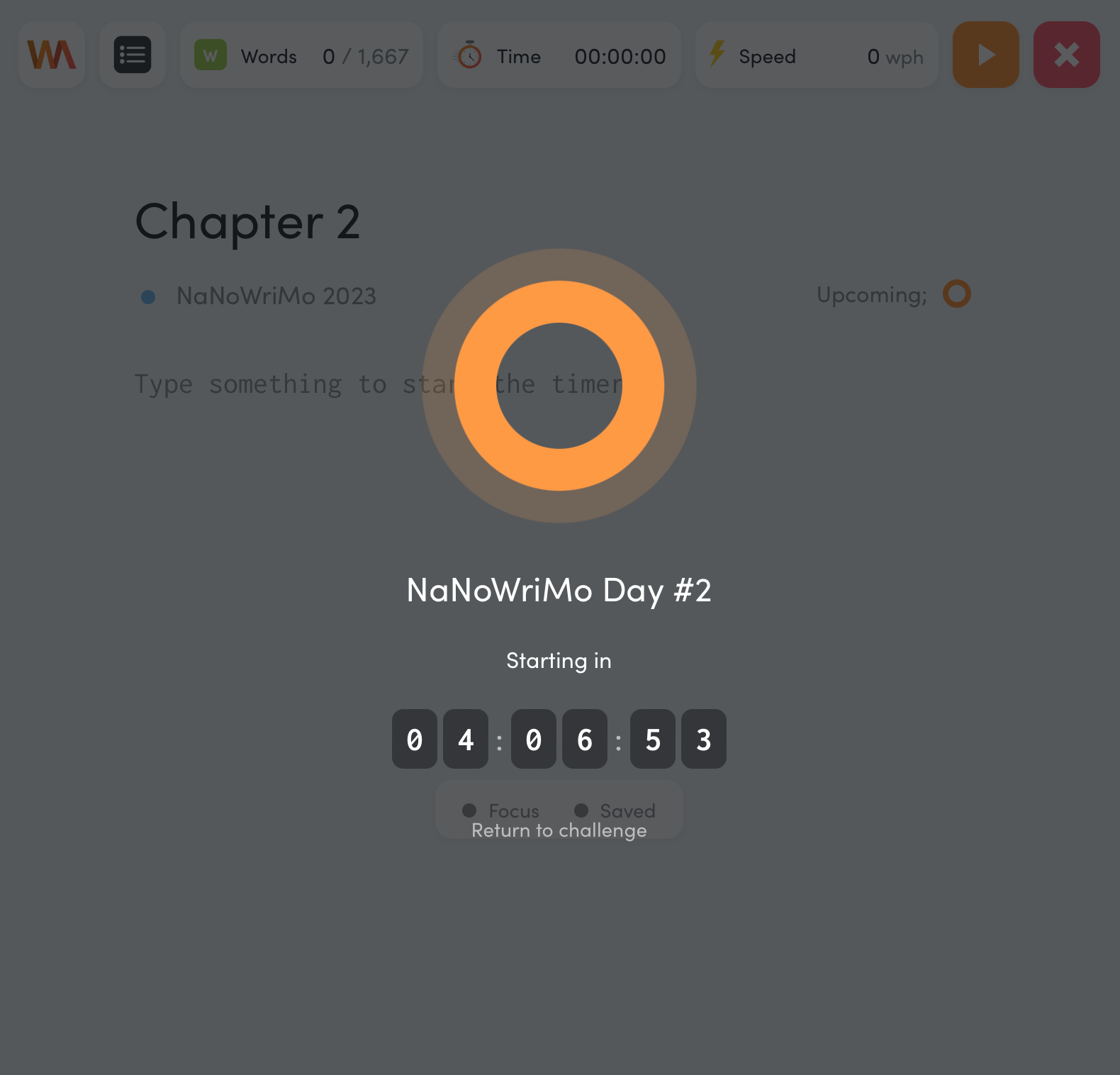 How to start a challenge?
Creating a new challenge is as easy as joining one. Go to the Challenges section in the app and click the New Challenge button.
A form will come up, asking you to choose a title, provide a brief description, start and end time and set a goal.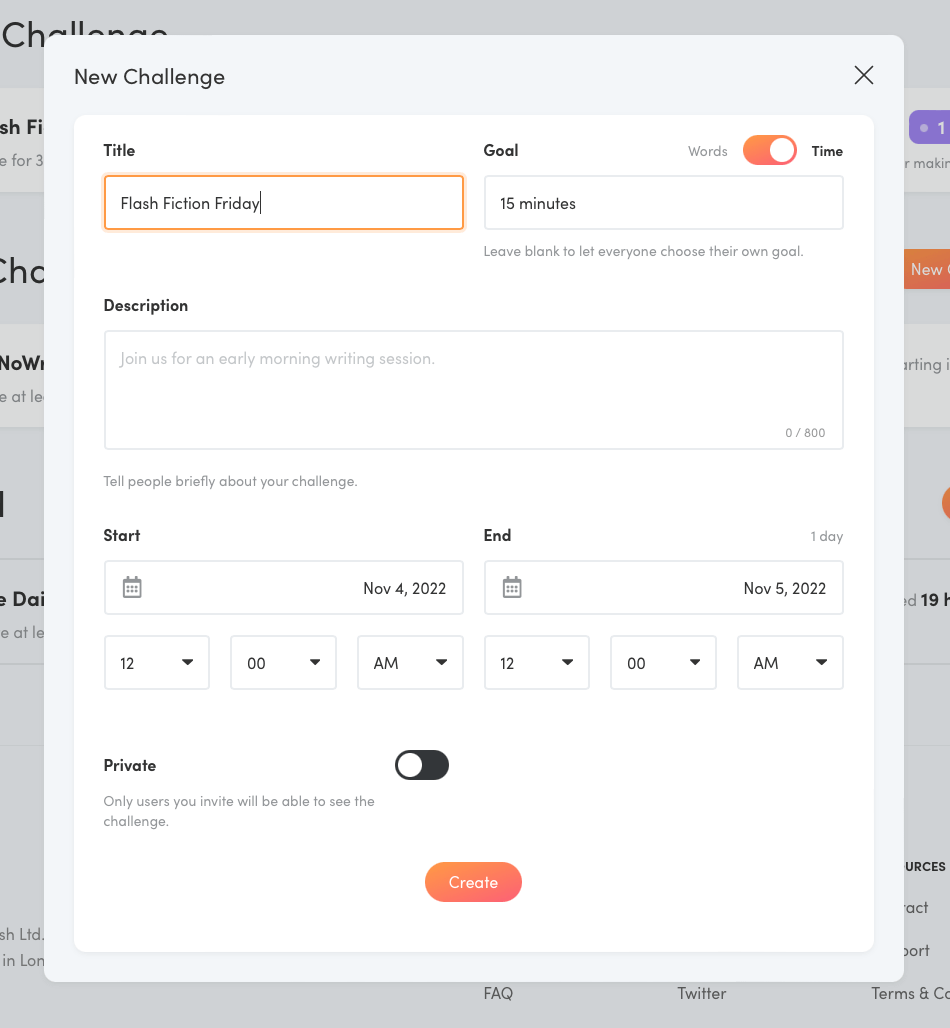 You can pick from three types of challenge goals:
word goal — write at least X number of words
time goal — write for a specific period or longer
open goal — let each participant set their own goal (or have no goal at all)
Then, pick a start and end time. Your challenge must start in the future and last as least 15 minutes.
You can also make your challenge private. Private challenges aren't listed in the app. Only the people you share the link with will see the challenge.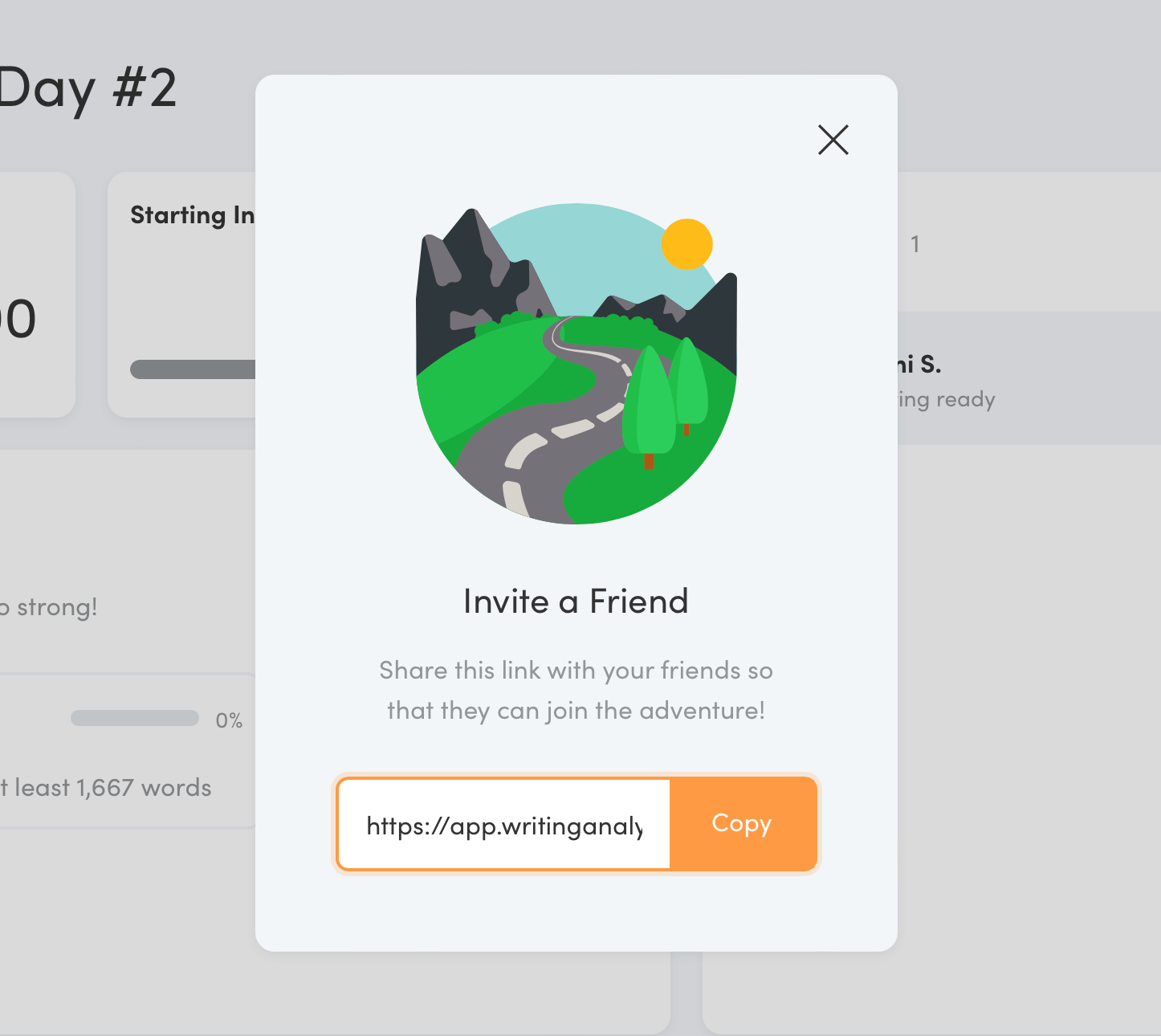 The final step is to set up a session for yourself. Open your newly created challenge and click the Add Session button.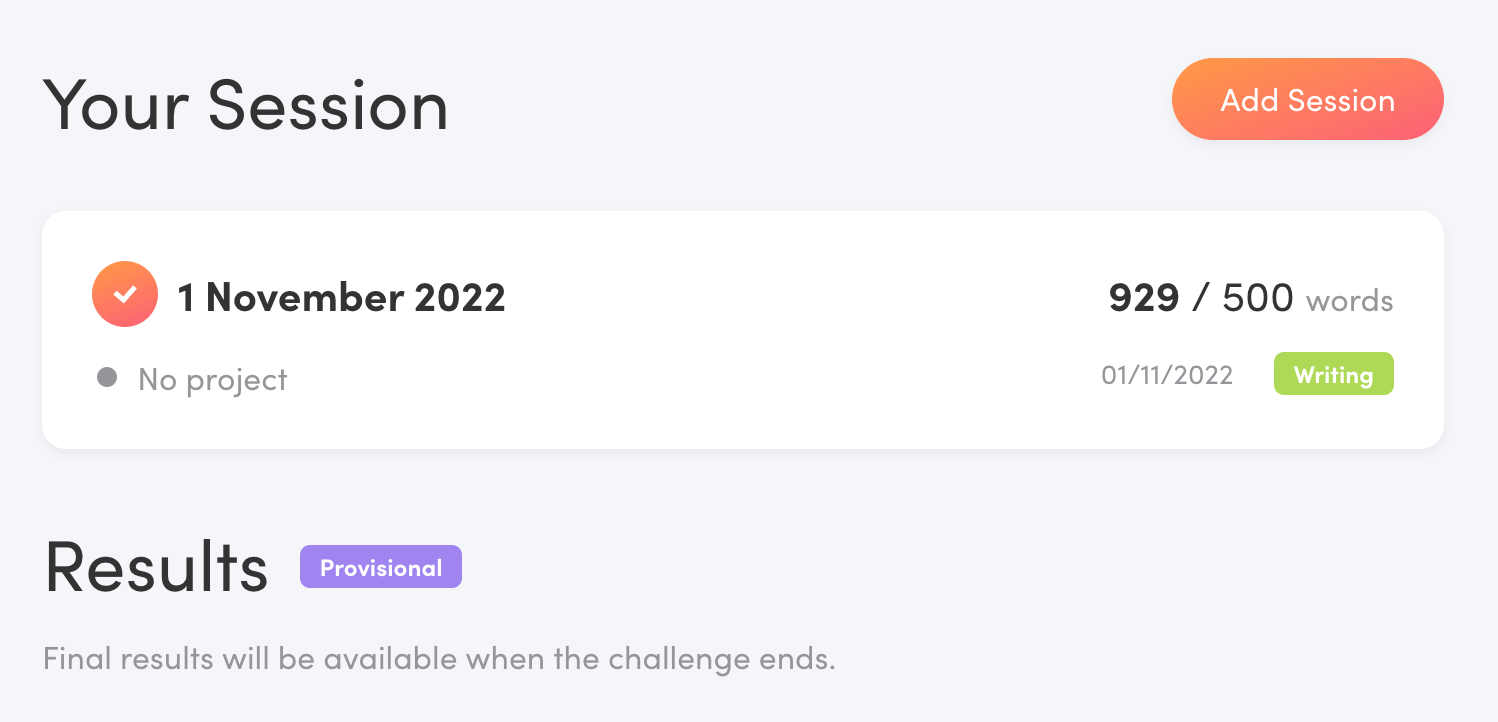 From here, it's the same as joining an existing challenge. Create a session and start writing.
What happens next?
While writing, you can check how the other participants are doing using the challenge widget in the editor. You'll find it under the title of your session.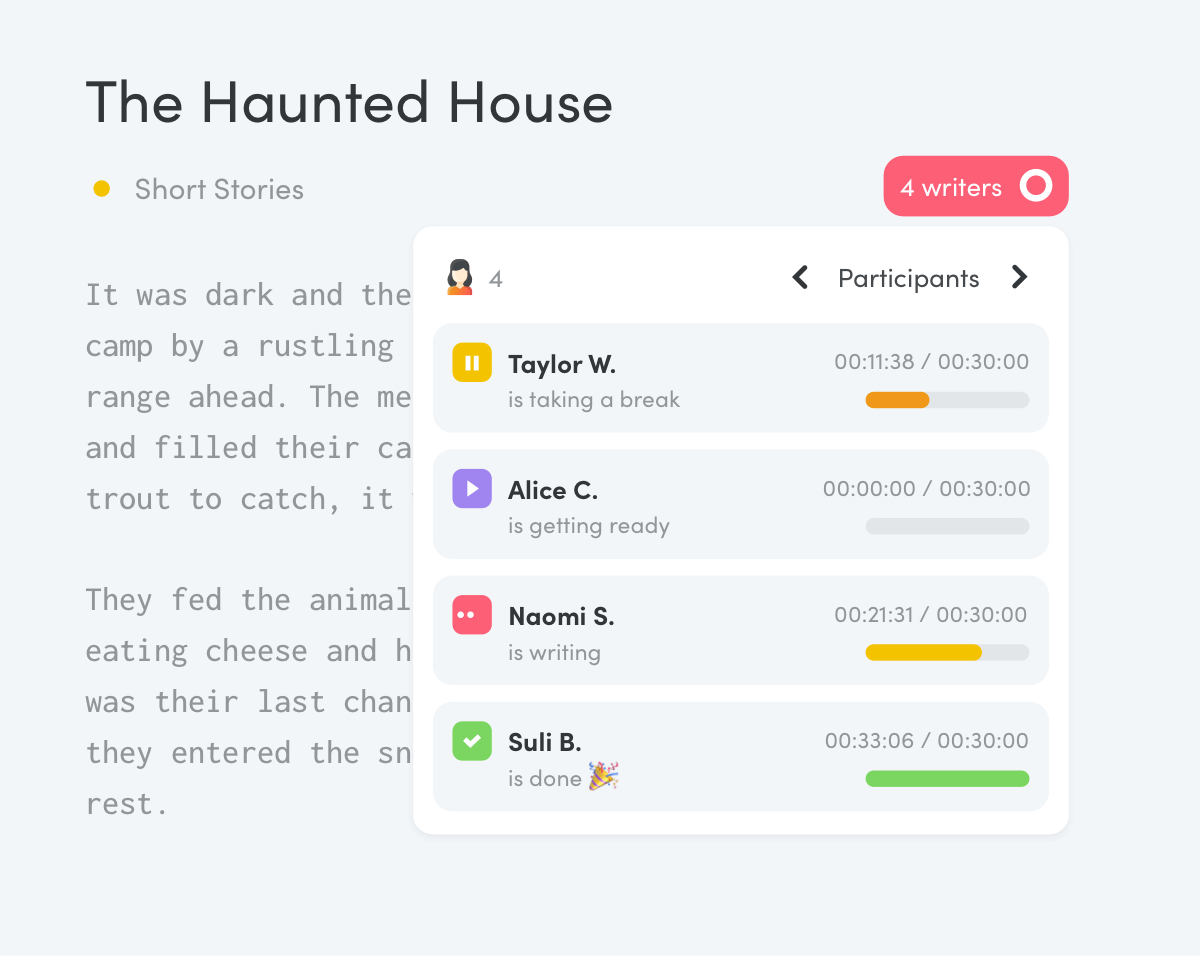 By default, it shows the time until the end, but you can customise that using the selector below.
When each participant finishes writing, their results will appear on the challenge dashboard.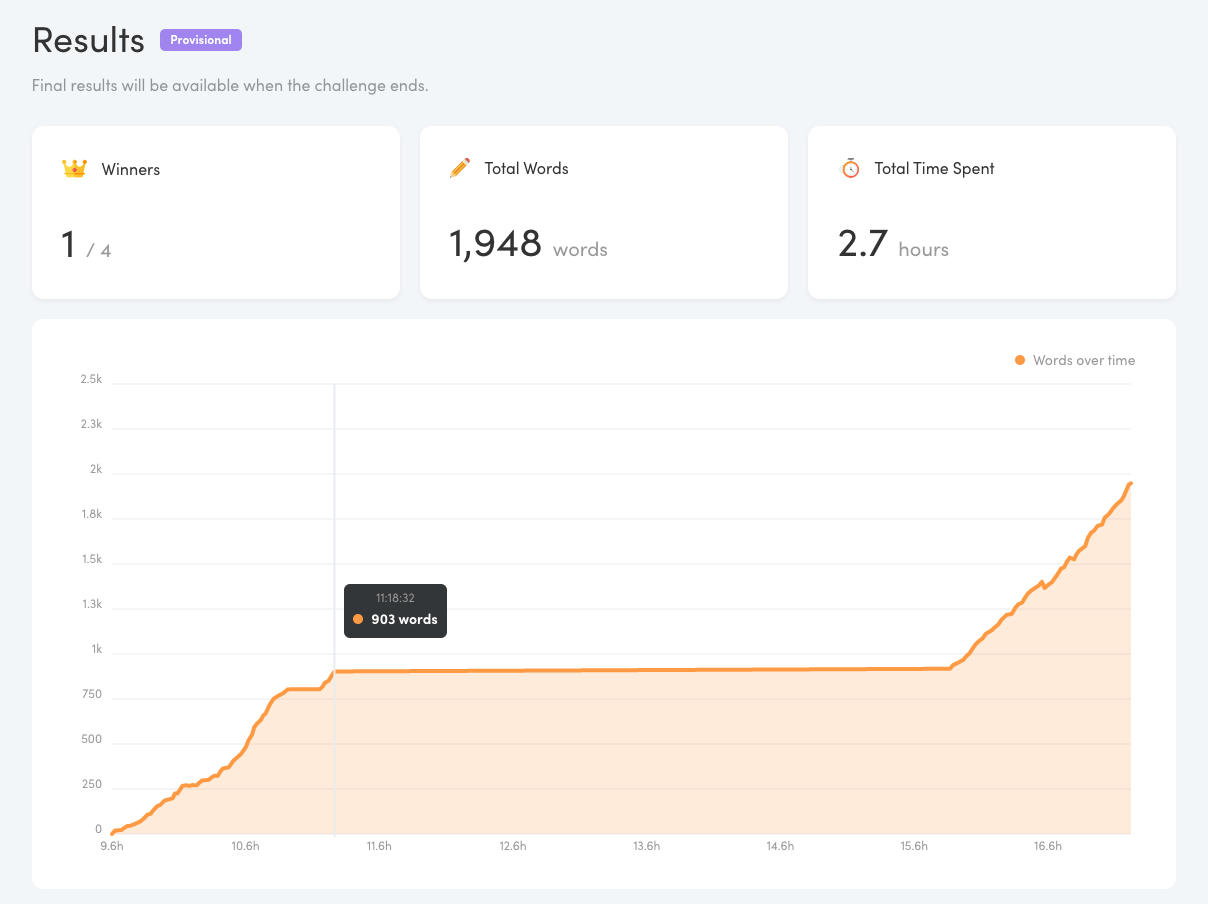 There's also a leaderboard where you can see how you did compared to the other writers.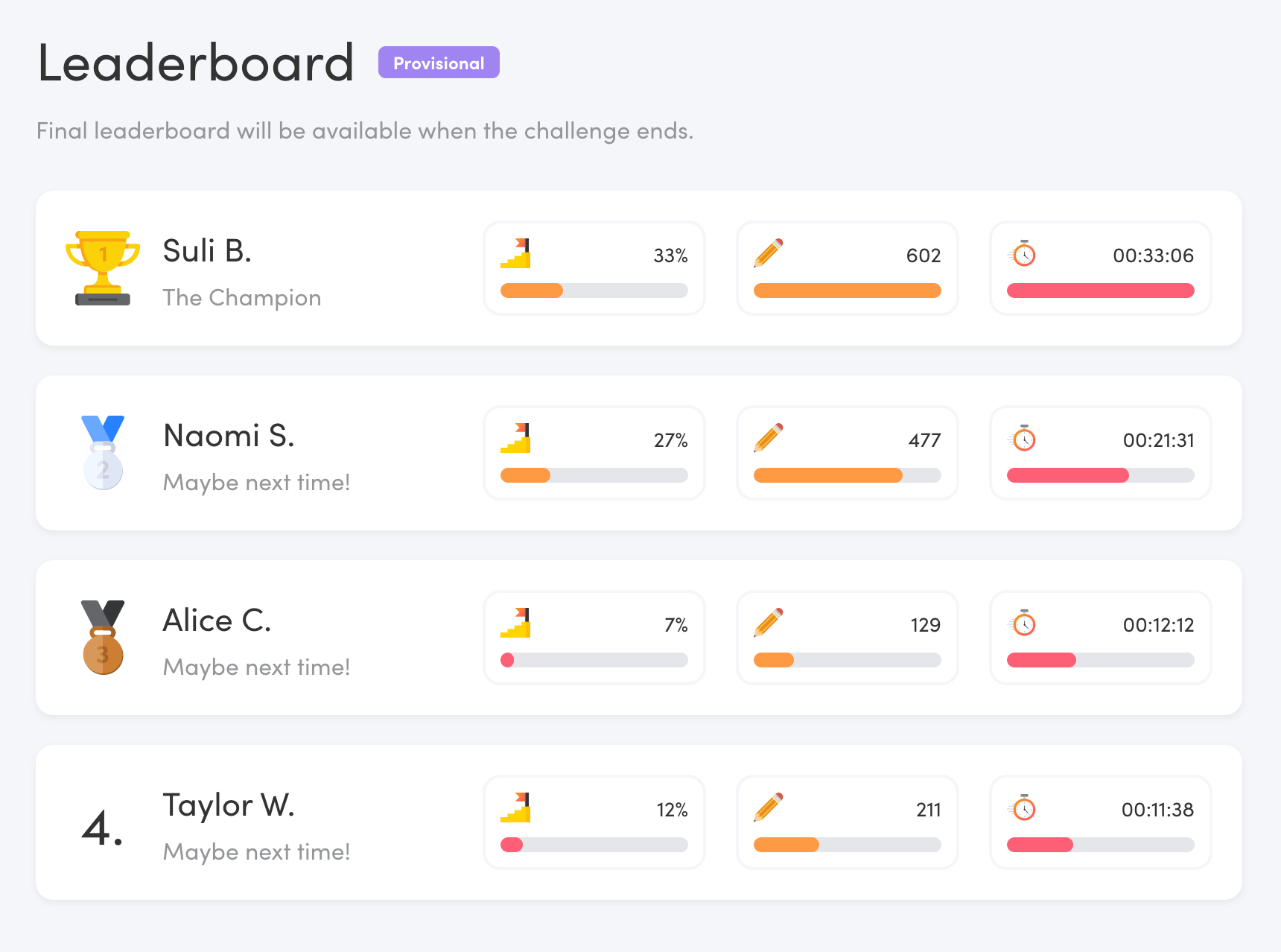 You can even see the metrics of individual participants by click on their name on the leaderboard.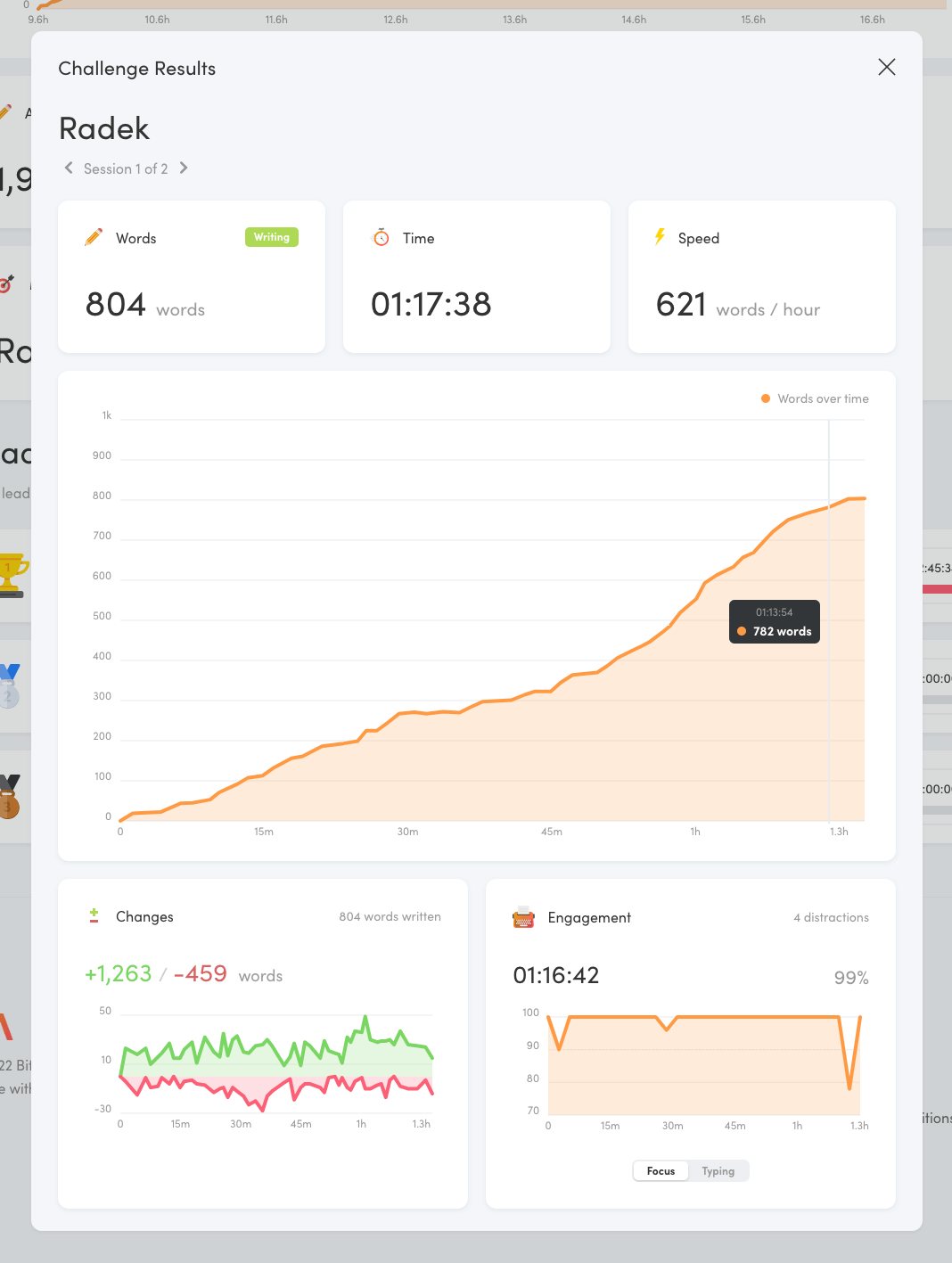 Final Thoughts
Writing alongside others is a powerful way to stay accountable and motivated to follow through with your goals.
Challenges in Writing Analytics bring the writing room right inside your editor, making it the easiest it's ever been to write alongside others.
Not a Writing Analytics member yet? Start your free 14-day trial and join us for a writing session today.