The Best Word Count Tracker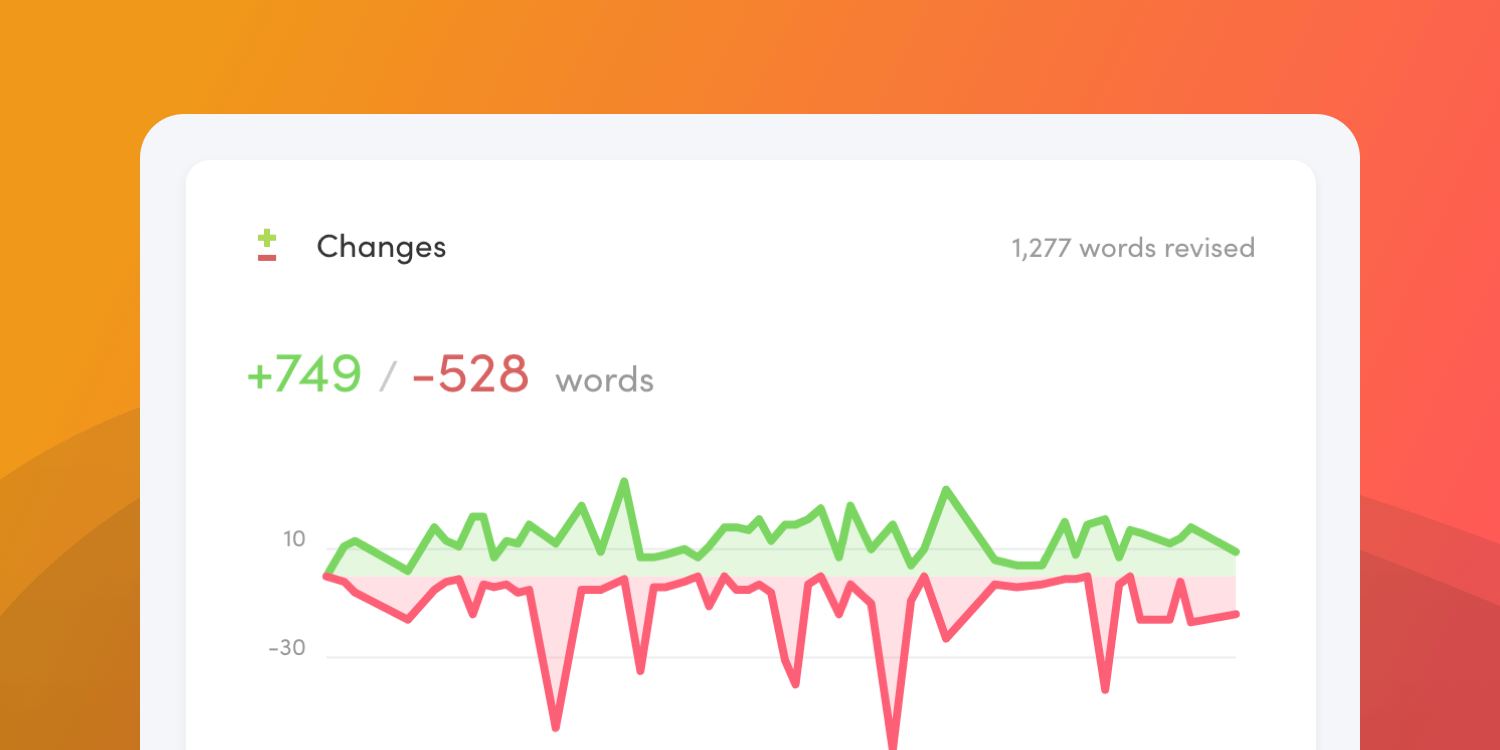 Transforming an idea into a finished book takes months and years of work. It's a journey. A good word count tracker will help you quantify how much progress you're making and help you stay motivated along the way.
Writers use many different tools to track their word counts. From notebooks and printouts to spreadsheets and apps. In this post, we'll take a look at what makes a good word tracker and how to make the most of using one.
Features of a Great Word Count Tracker
The most important feature is, of course, tracking how many words you write. The most basic ones let you track your word count per day. The more advanced trackers let you make multiple entries per day so you can track each writing session independently.
If you like to work on multiple writing projects at the same time, it's worth tracking each project separately so you know how much of your effort goes where. Your app may support this out of the box. Alternatively, you can use different spreadsheets or printouts for each project.
Time Spent
The other important metric to track is how much time you spend writing. As you gather more data about your writing habit, this will help you better figure out when you're the most productive. You'll see whether you're writing less or just taking longer to write the same number of words.
Tracking time is harder to do, particularly when using a manual tracker. In that case, put marks in your drafts when you started and finished writing so you can calculate these later.
Goals
Most writers track their words to stay motivated and write more. A good word count trackers will let you set goals and targets to help you stay accountable along the way.
Viewing Your Data
Another key feature of a word tracker is the ability to look back at your data easily. Apps and spreadsheets have a clear edge here over paper-based tracking systems.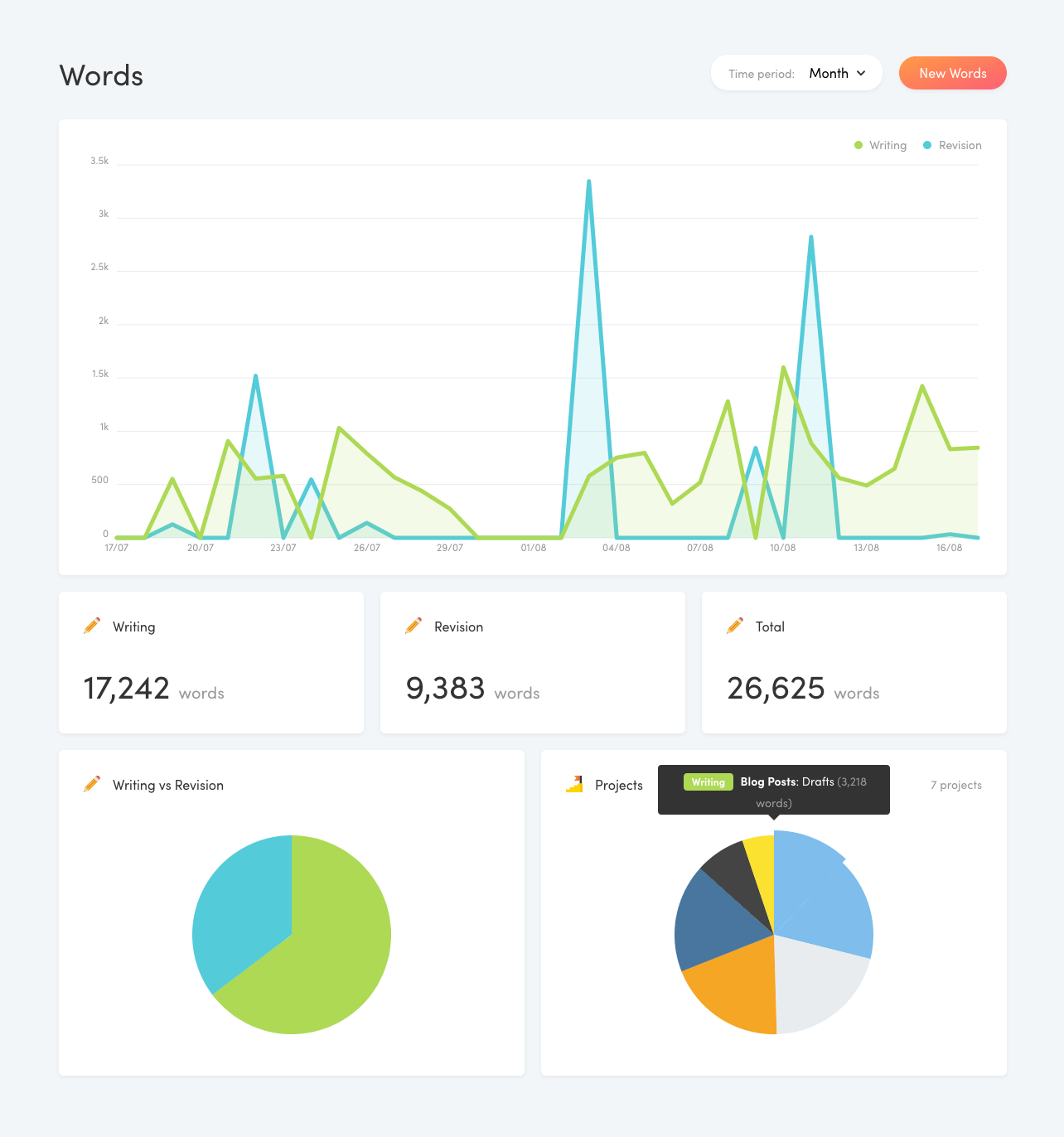 This can be a lifesaver when you hit a writing slump and start questioning whether you have what it takes to be a writer. Creativity ebbs and flows — it happens to everybody. Having the ability to look at the evidence of how many words you were writing every day just a few weeks ago can be incredibly reassuring. You wrote before, and when the time comes, you will write again.
Ease of Use
Most writers are busy people. Writing is hard enough already. Using your word count tracker shouldn't feel like a chore. The last thing you need after a long day is to be figuring out how many words you wrote.
The more friction there is, the more likely you are to stop using your writing tracker when you start struggling. When you're feeling unmotivated — that's when you need it the most.
Longevity
Finally, your word count tracker should be something you will be able to use for years to come. Writing takes time, but the words do add up eventually.
Your old word count logs are like old photographs. They offer you a window into your writing past. It's a shame when you lose your data that you could be looking at five or ten years from now.
A New Kind of Word Count Tracker
Writing Analytics works differently than most word count trackers. Instead of manually logging your words at the end of your day or writing session, the editor does everything for you.
As you write, the analytics engine built into the app tracks how many words you write and delete. It records your writing time and how much of it you spend typing. It also logs when you get distracted and leave the editor.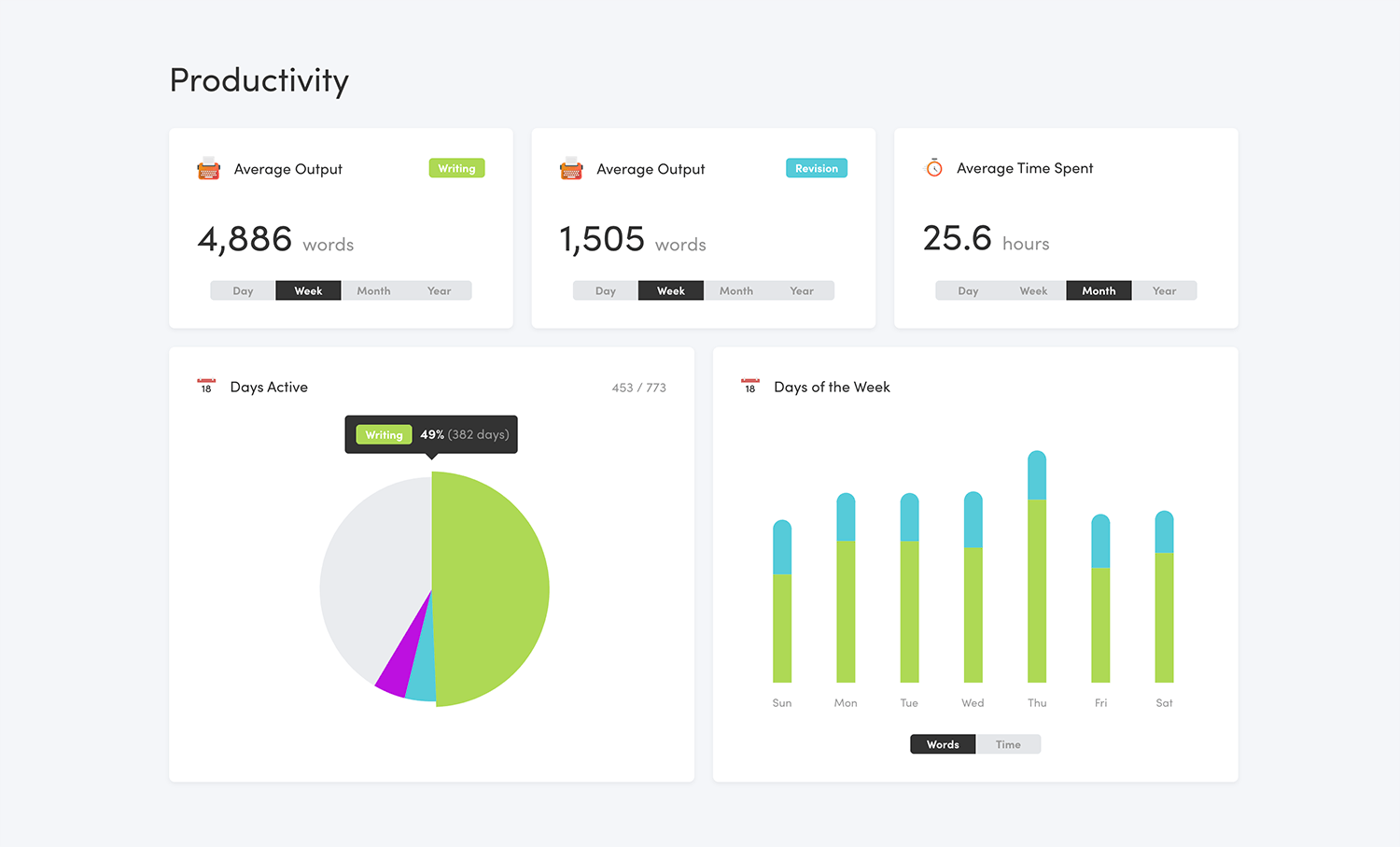 All you have to do is to write your words, and the tracking happens behind the scenes. The data will be associated with the project you're working on, and you can always see them on your dashboard.
The app comes with a built-in writing planner. You can create projects, set goals and deadlines. Writing Analytics will figure out how many words you need to write every day and show you reminders.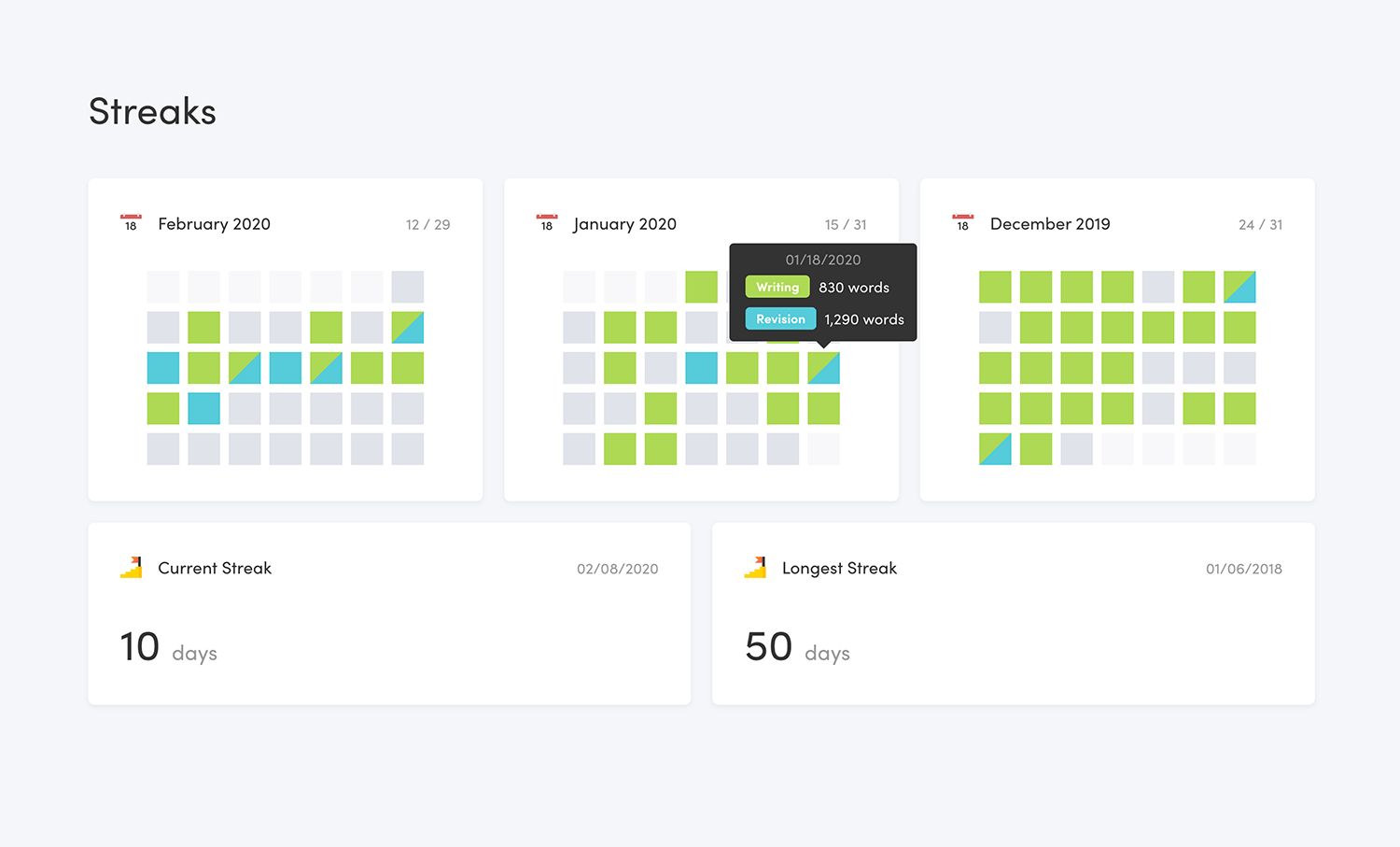 The integrated habit tracker shows you your writing streaks over the past three months. The best thing about that is that you don't even have to check days off. The app knows when you worked and does that for you.
Last but not least, Writing Analytics comes with 46 unique awards to collect. The more you write, the more of them you'll earn. Awards will help you celebrate hitting your goals every day and reaching important milestones along your writing journey.
Progressing as a Writer
To progress as a writer, you have to write. You have to do it when you're not feeling inspired. You have to keep going when things aren't going as well as you'd like.
A good word count tracker is an invaluable companion on your writing journey. It helps you stay consistent and keeps you accountable for as long as it's necessary to reach your writing goals.